Renovated Hotel by Milwaukee Airport with Free Parking
Welcome to our Crowne Plaza hotel by Milwaukee Airport with free parking and exceptional amenities. Our recently updated property offers its guests a full package of complimentary amenities, along with several on-site services, including full-service dining, to comfort the corporate and the leisure traveler alike. Join us today!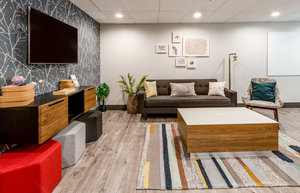 A Better Way to Work & Play
Our hotel by Milwaukee Airport with free parking is excited to bring you one of Crowne Plaza's newest and most exciting features, the Plaza Workspace. These adaptive workspaces are a brand new feature of our property and the Crowne Plaza brand, providing the perfect place to gather, work, and relax.
From work to play, these technologically-enhanced spaces perfectly suit your social or business meeting needs. Most of them are offered free-of-charge and can be rented by the hour. Find them in several areas of our property, all offering the convenience of hotel service straight to your workspace. Order food, a coffee, or call upon our staff for technical assistance from the workspaces' tablets with ease.
Studio Space | Reserve the studio space for your team gatherings or social meetups. The space can be rented by the hour for an additional fee. Reserve yours today!
Pods | Integrated into the pod, you will find power and USB plugs. Order some food from Altitude Restaurant and have it delivered directly to your pod as you work.
Nooks | The nook has a TV built in, as well as power and USB ports and an HDMI cable. Connect to your devices to work, stream entertainment, or use the Wi-Fi to surf the web.
Huddle Spots | Gather in either of our 2 huddle spots that are seamlessly integrated into our Starbucks area.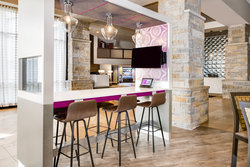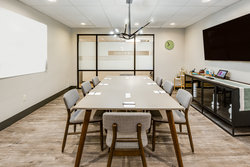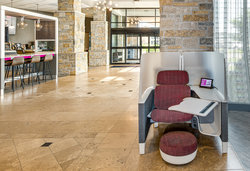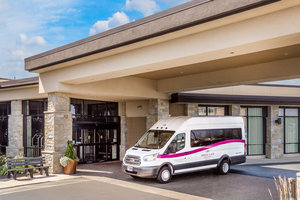 Complimentary Services
On top of being a Milwaukee Airport hotel with parking, we feature many more complimentary perks to elevate your stay.
Airport shuttle | Our shuttle to and from Mitchell Airport leaves every 20 minutes. It is offered free-of-charge and must be booked in advance at our front desk.
Free parking | We offer ample parking for overnight guests at no additional charge. We are unable to accommodate trucks or semis but do provide extended parking for a fee.
Free Wi-Fi | Use free high-speed Wi-Fi throughout our property and in the comfort of your room.
Free newspapers | Stay on top of world events by browsing the complimentary newspapers. Find both the Wall Street Journal and USA Today daily in our lobby.
24-hour concierge | Our efficient front desk services and knowledgeable staff are always available to provide any assistance you may require.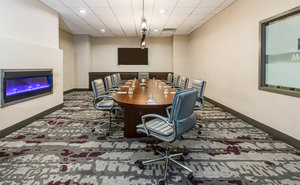 Fundamentals for your Business Stay
Join us for your business trip and find your stay enhanced by our many corporate amenities designed to make your stay convenient and stress-free.
Business center | Our 24-hour business center is equipped with 2 computers with Internet access and free printing.
Meeting & event space | Host your next event with us! Submit an inquiry today or read more about our 24,000 square feet of state-of-the-art event space.
Dry cleaning | Drop your laundry off by 8 am Monday through Friday and enjoy the convenience of expedient same-day service.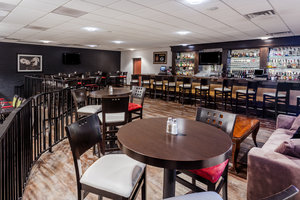 Relax & Rejuvenate
Our hotel in Milwaukee with an indoor pool is distinguished by its on-site amenities, which includes a full restaurant, hot tub, fitness center, and more.
Aquatic center | Our pool and hot tub are open daily from 6 am to midnight, providing you a relaxing space to unwind, play, or exercise.
Fitness center | Stay active on our treadmill, elliptical, rowing machine, stationary bicycle, and free weights.
On-site dining | Whether you're looking for quick coffee or snack options on the way to the office, a place to meet colleagues for a drink, or a restaurant to enjoy a full-service meal, we offer it all and more at Crowne Plaza Milwaukee Airport. Learn more about all of our on-site eats on our dining page!
Book your stay today at our hotel by Milwaukee Airport with free parking and take advantage of our extensive profile of phenomenal amenities.